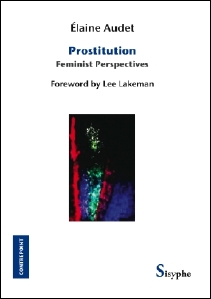 Les Éditions Sisyphe is pleased to announce the publication
of the book Prostitution – Feminist Perspectives, by Élaine Audet, translated by Carol Card and Philippe Robert de Massy, with a foreword by Lee Lakeman. Sisyphe, coll. Contrepoint, Montreal, 2009, 10 cm x 15 cm, 136 p. ISBN : 978-2-923456-11-9. Price : 13$ CD + postal charges.
ORDER
For Canada, United States, and others countries, order to :
Exportlivre
289, boul. Desaulniers
Saint-Lambert, QC
Canada, J4P 1M8
TEL : 001-450-671-3888
FAX : 001-450-671-2121
E-MAIL : info@exportlivre.com
Exportlivre Website - Visit this section to order one or more books.

Read more in this page.